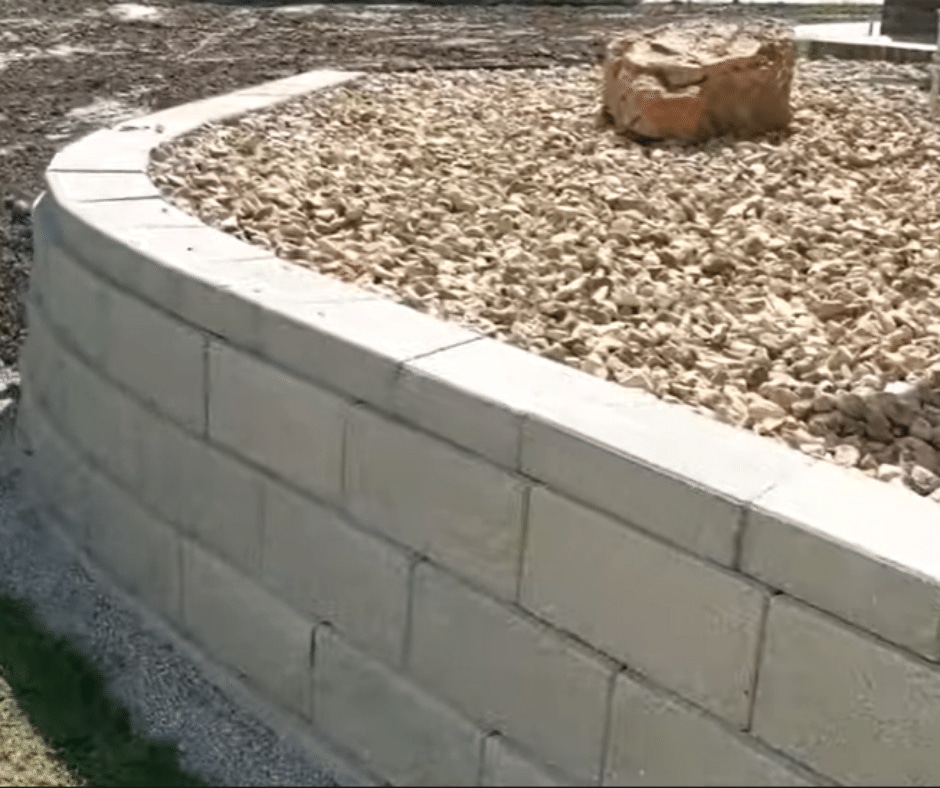 When you first look at a retaining wall, you might not see more than the materials that it is constructed from, but much more goes into this complicated structure. Stockbridge Driveway Repair understands what is needed to build a solid retaining wall from the planning to materials and, finally, the installation. Retaining walls are an effective way to support slopes and hold them in place.
A retaining wall can increase your yard space while adding that extra curb appeal to your home and yard. Retaining walls are most often installed when a homeowner needs a solution to prevent slope soil from eroding. A retaining wall can help to elevate your driveway or to keep your landscape design intact.
Stockbridge Driveway Repair does Retaining Walls
Yes, we do driveway repair and replacement, and we also do retaining walls. Stockbridge Driveway Repair is a company in your local area that can help you when you have critical decisions to make. We have a great deal of experience with the planning and installation of retaining walls. Safety is our main priority, and we have plenty of expertise and knowledge when you want to have a durable and safe retaining wall constructed for you.
When we install retaining walls, we have to understand the lateral pressure of the materials behind the retaining wall. Every retaining wall should be safe both for the residents and for the environment. The last thing that anyone wants is to see a retaining wall collapse and become useless. When Stockbridge Driveway Repair constructs retaining walls, we take the potential lateral pressure into account. We know that the wall needs to resist tilting, cracking, and bowing to be durable. Inexperienced contractors should not construct retaining walls because they could become dangerous. A retaining wall should be solid and safe and should stand up to the main demands of everyday life.
Outdoor Space Retaining Walls
If you are looking for attractive and functional outdoor living space, Stockbridge Driveway Repair is here to help you. We can help you plan and build the retaining walls that will last for many decades into the future. 
We always bring our experience and ideas to every job that we work on. We can add stepping stones into your retaining wall so that it is also functional. We offer many design options and use those to add a lot of value to your property. 
Decorative Retaining Walls
Stockbridge Driveway Repair will work with every customer to provide an attractive and safe retaining wall. We understand that a retaining wall will become a permanent fixture in your yard, and it needs to look nice and serve a purpose. We can construct your retaining wall from concrete or other materials, but we can discuss that with you once we come to provide you with an estimate. We offer many design options, and we will work with you to ensure that your preferences are included in the completed retaining wall.
Parking Lot Retaining Walls
Here at Stockbridge Driveway Repair, we have constructed thousands of retaining walls for commercial and residential spaces. If you would like to expand a commercial parking lot, a retaining wall may be the answer. Retaining walls help to drain the lot and prevent soil erosion and provide safe, functional space. The team at Stockbridge Driveway Repair can help you with the solutions you are looking for.
Driveway Retaining Walls
Most people want to have more room in their driveway for parking. You can quickly obtain that extra space you are looking for with retaining walls in your driveway. You can easily plan and install a retaining wall in your driveway to raise and widen it, and the result is that your driveway will be durable, safe and balanced, and able to support many vehicles parked on it. One of the primary keys to a safe and durable driveway is having proper drainage, which will keep the wall stable and prevent bulging.
Concrete Retaining Walls
One of the most cost-effect ways to construct a retaining wall is to use concrete. Concrete walls can be poured for instant results. Contact us at Stockbridge Driveway Repair to find out more information. 
Request Your Quote Today
Contact Stockbridge Driveway Repair today if you would like more information about retaining walls for driveways, parking lots, or as a landscaping feature. Contact us to receive a complimentary quote. We can offer you a consultation and provide you with cost-effective solutions without all those hidden costs and added fees.